The Family Spirit Program is an evidence-based and culturally tailored home visiting intervention delivered by Native American paraprofessionals as an Indigenous solution to supporting caregivers during pregnancy and early childhood. Caregivers gain knowledge and skills to achieve optimum development for their children across the domains of physical, cognitive, social-emotional, language learning, and self-help.
The Family Spirit Core Curriculum consists of 63 lessons taught from pregnancy to age 3. Additional curriculum modules address emerging needs and specific family circumstances. This in-home parent training and support program has been designed, implemented, and rigorously evaluated by the Johns Hopkins Center for Indigenous Health (CIH) in partnership with the Navajo, White Mountain Apache, and San Carlos Apache tribal communities since 1995. It is now replicated nationally, with training, technical assistance and curriculum materials managed by Johns Hopkins CIH.
To learn more about the Family Spirit program, visit familyspiritprogram.org.
Watch a video to learn about this program's impact for one family in Chinle, Navajo Nation.
Over 150 communities across the country have been trained to use Family Spirit.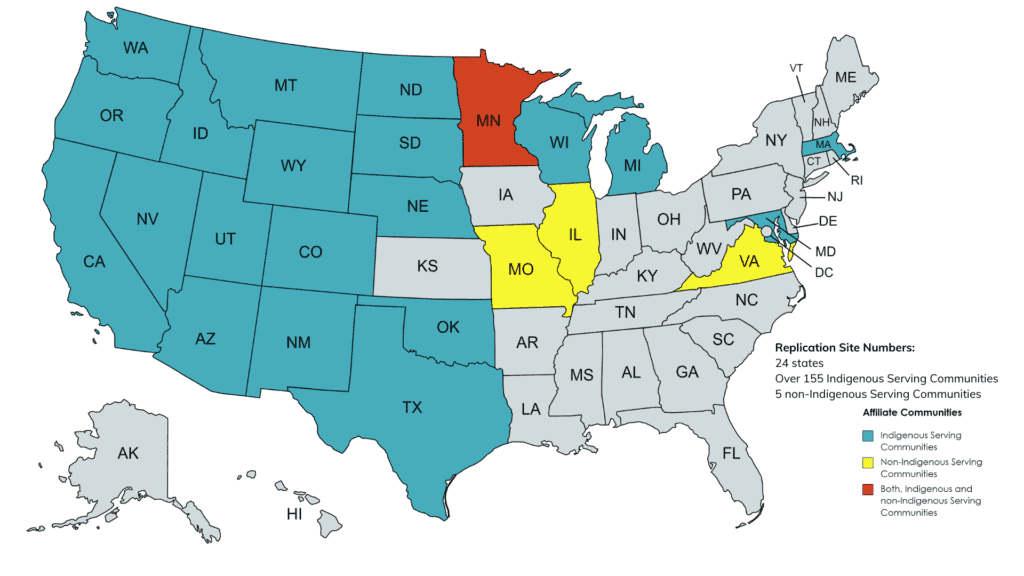 Contact by email: familyspirit@jhu.edu & stay updated with Family Spirit on social media!
Resources